Not surprisingly, none of the male V8 Supercar fans asked this young lady to move out of the way!
Quite a few guys would hope they'd be on pole position!
Meanwhile in the middle of the grid it was impossible to get a shot of Kev's Girls on the grid so I went for the Super Cheap (Super Cheap Autos, that is) option.......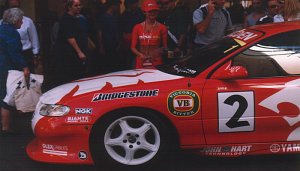 Part of the display in Rundle Mall was a replica (road version) of the HRT V8 Supercar. One of the Clipsal 500 girls looks at the car.